A Girl's Guide to Vampires

Katie MacAlister

Genre:
Paranormal Romance

Publisher:
Avon

Release Date:
December 28 (reissued)


Joy Randall's Top 5 Tips for Vampire Hunters:
Location, location, location. Vampires won't be caught dead (ha!) in places like discos, ten-minute lube shops, or Switzerland. Remember, if you wouldn't be there, neither would a bloodsucker.
Trust your eyes. You know the handsome, annoyingly arrogant, self-assured man in the shadows with long hair and a cleft in his chin? He's your vampire.
No matter how tempting it might be, do not "accidentally" acquire a paper cut on your finger and suggest your vampire kiss it to make it better.
Play it cool. Don't offer to accompany your prince of the night on the talk-show circuit, and whatever you do, don't offer him your heart!
Most of all, remember: being a vampire is nothing to laugh about.





Arcane Circle (Persephone Alcmedi #4)

Linda Robertson

Genre:
Urban Fantasy

Publisher
: Pocket

Release Date
: December 28

After facing down the forces of Fairy in mortal combat, Persephone Alcmedi still must deal with the aftermath. Not only does Seph now possess deadly secrets she must hide from the arcane and mundane world alike, but the dozens of magical creatures who've taken up residence behind her cornfield need food and shelter, and there's still her foster daughter Beverly's tenth birthday party to plan.

And that's not all. . . . Seph's boyfriend Johnny has revealed himself as the wærewolf Domn Lup, and the ruler of the wære world is en route from Romania to make sure Johnny really is the "king" he claims to be. But Johnny's hiding a dangerous secret: his magic is locked in his mysterious tattoos. He and Seph must find a way for him to reclaim it—fast—despite those who have no intention of letting Johnny gain his full powers. Seph knows that, in the arcane world, strength is always a necessity and power must be constantly proven, but how far is she willing to go to succeed . . . and at what cost?



Ascension

Caris Roane

Genre:
Paranormal Romance

Publisher:
St. Martin's Paperbacks

Release Date
: December 28

Kerrick is a vampire warrior on a mission—to protect powerful mortal Alison Wells as she goes through the rite of ascension, or transformation into a vampire. But along the way, Kerrick gets caught in a feirce, forbidden attraction to the woman he been assigned to watch over. After his beloved wife was murdered by evil blood vampires, Kerrick took vows never to get involved with a woman again, for he knows that he'll risk her life if he gets too close. But when a powerful army of blood vampires learns about Alison's extraordinary powers, they're determined to take her down. Now Kerrick has no choice but shadow her where ever she goes--even if it means losing his heart for eternity



Bloody Valentine

Melissa de la Cruz

Genre:
YA Urban Fantasy

Publisher:
Hyperion Book CH

Release Date:
December 28

Vampires have powers beyond human comprehension: strength that defies logic, speed that cannot be captured on film, the ability to shapeshift and more. But in matters of the heart, no one, not even the strikingly beautiful and outrageously wealthy Blue Bloods, has total control. In Bloody Valentine, bestselling author Melissa de la Cruz offers readers a new story about the love lives of their favorite vamps - the passion and heartache, the hope and devastation, the lust and longing. Combined with all the glitz, glamour, and mystery fans have come to expect, this is sure to be another huge hit in the Blue Bloods series.

Also, witness the bonding of Jack and Schuyler.


Crimson Wind

Diana Pharaoh Francis

Genre:
Urban Fantasy

Publisher:
Pocket

Release Date:
December 28

THERE ARE GOOD GUYS. THERE ARE BAD GUYS. AND THEN THERE'S MAX.

Max knows what trusting the wrong person can cost you. Her former friend Giselle, a powerful witch, enslaved Max years ago, turning her into a Shadowblade—a deadly warrior compelled to fight for Giselle. But there's more at stake now than Max's thirst for revenge. The Guardians, overseers of the magical world, have declared war on humanity and on any witches not standing with them. Max and Giselle have come to an uneasy truce in order to protect what's left of Horngate, their coven's home. Max would do anything for Horngate—even give herself over to a mysterious otherworldly creature in the nearby mountains in exchange for his help. But first, she intends to save the mortal family she left behind. And Alexander, the Shadowblade warrior who could be her closest ally or her deadliest enemy, is going with her.

On a road trip into the unknown, Max and Alexander face wild magic, desperate enemies, and battles that bruise both body and soul. But the greatest challenge will come from unexpected revelations that test everything Max believes about who she is—and where her loyalties lie. . . .



Dark Waters (Lady of the Lakes #2)

Alex Prentiss

Genre:
Paranormal Romance/ Urban Fantasy

Publisher:
Bantam

Release Date:
December 28

TO FEEL THIS PLEASURE, FIRST YOU MUST SURVIVE THE DEEP.

DARK WATERS

By day, Rachel Matre runs a hip diner in downtown Madison, Wisconsin. By night, she slips naked into the waters of a lake whose spirits speak to her, caress her, and take her to a place of indescribable pleasure.
But now the machinations of a greedy developer have summoned another force from the depths—a strange, beautiful man with a dark agenda. Soon there is a murder by the lake. During the hunt for the killer, Rachel is pulled into a torturous limbo where all she can feel is her raging erotic lust—and never a release. A crime, an ancient curse, and a confluence of thoroughly modern relationships have plunged Rachel into the ultimate mystery: one whose solution will emerge only out of pain, desire, and a passion for the most forbidden truth of all



Earl of Darkness

Alix Rickloff

Genre:
Paranormal Romance

Publisher
: Pocket

Release Date:
December 28

The magic she tries to hide . . .

Born a lady, but reduced to surviving in the slums of Dublin, Catriona O'Connell has been hired to steal a mysterious book from Aidan Douglas, Earl of Kilronan. But Cat is secretly Other, an age-old mixture of Fey and human—something Aidan recognizes immediately when he surprises the lovely young burglar in his library, about to steal a magical diary.

. . . is the magic he desperately wants.

From the moment Aidan sees her, Cat's spirited beauty enchants him, but her uncanny abilities are what he truly needs, for Cat can understand the mystical language in the diary he inherited from his murdered father. So Aidan makes an offer: translate the book or be thrown in prison as a thief. And as Cat slowly deciphers each page, she and Aidan are drawn together by passion . . . and into the violence of the Other world that is the Kilronan legacy. Can they defeat those who seek the book, or are their lives in even greater danger than their hearts?



Eternal Prey (Gods of the Night, Bk 3)

Nina Bangs

Genre
: Paranormal Romance

Publisher:
Avon

Release Date:
December 28

A magnificent creature, Utah wants vengeance against the bloodsuckers who murdered his brother. Once the beast within him is unleashed, he won't rest until every vampire is destroyed. But he never expected to encounter a leader of his immortal enemies who was so beautiful, bewitching . . . and mortal.

It is Lia's destiny and her duty to stop the renegade vampires who are intent on annihilating the human and non-human races alike. But she never dreamed that Utah, once a deadly foe, would now become her ally and protector, or that loving him would be more dangerous than anything she's ever faced before. For when Utah frees his predator soul, there will be no end to the carnage.


Fallen Angel

Heather Terrell

Genre:
YA Urban Fantasy

Publisher:
HarperTeen

Release Date:
December 28

Heaven-sent?

Ellie was never particularly good at talking to boys—or anyone other than her best friend and fellow outcast, Ruth. Then she met Michael.

Michael is handsome, charming, sweet. And totally into Ellie. It's no wonder she is instantly drawn to him. But Michael has a secret. And he knows Ellie is hiding something, too. They've both discovered they have powers beyond their imagining. Powers that are otherworldly.

Ellie and Michael are determined to uncover what they are, and how they got this way . . . together. But the truth has repercussions neither could have imagined. Soon they find themselves center stage in an ancient conflict that threatens to destroy everything they love. And it is no longer clear whether Ellie and Michael will choose the same side.

In this electrifying novel, Heather Terrell spins a gripping supernatural tale about true love, destiny, and the battle of good versus evil.


Hellforged

Nancy Holzner

Genre:
Urban Fantasy

Publisher
: Ace

Release Date:
December 28

A demon is stalking Vicky's dreams-just as several of Deadtown's zombies are viciously attacked and become really dead. And when Vicky realizes she is the only connection between the victims, she suspects that the demon is somehow working through her dreams to become Deadtown's living nightmare.


In Too Deep: Book One of the Looking Glass Trilogy (An Arcane Society Novel)

Jayne Ann Krentz

Genre:
Paranormal Romance

Publisher:
Putnam Adult

Release Date
: December 28

Scargill Cove is the perfect place for Fallon Jones, confirmed recluse and investigator of the paranormal. It's a hot spot, a convergence point for unusually strong currents of energy, which might explain why the town attracts misfits and drifters like moths to a flame. Now someone else has been drawn to the Cove-Isabella Valdez, on the run from some very dangerous men.

When she starts work as Fallon's assistant, Isabella impresses him by organizing his pathologically chaotic office-and doesn't bat an eye at the psychic aspect of his job. She's a kindred spirit, a sanctuary from a world that considers his talents a form of madness. But after a routine case unearths an antique clock infused with dark energy, Fallon and Isabella are dragged into the secret history of Scargill Cove and forced to fight for their lives, as they unravel a cutthroat conspiracy with roots in the Jones family business . . . and Isabella's family tree.


Killing Rocks (The Bloodhound Files #3)

D.D. Barant

Genre:
Urban Fantasy

Publisher:
St. Martin's Paperbacks

Release Date:
December 28

FBI profiler Jace Valchek's ticket home from the twisted parallel universe where she's been called to duty hinges on the capture of series killer Aristotle Stoker - and an alliance with a sorcerer known as Asher. The problem: Asher has joined forces with some of the most dangerous creatures Jace has ever encountered. The solution: There is none, without Asher's help. Jace's goal seems simple enough - to get her man, like always. But just hours after she arrives in Vegas, she's abducted...and she isn't even sure who the real enemy is. Now Jace has to wonder if she's the predator or the prey in a very dangerous game that could change not only her fate, but the world's...Meanwhile, a serial killer is still on the loose. And time has already run out...


My Fair Succubi (Succubus Diaries, #3)

Jill Myles

Genre:
Paranormal Romance

Publisher:
Pocket Star

Release Date:
December 28

IT SUCKS TO BE HER.

Living as a succubus has a bit of a learning curve, but with sexy fallen angel Noah to scratch her sensual Itch, Jackie Brighton is finally starting to feel ahead of the game. She almost doesn't miss her gorgeous vampire master Zane—or his sinful, teasing mouth. She's trying to convince herself of that, anyway.

But Jackie's past mistakes catch up with her, spinning her life out of control once more. Just as her friend Remy's inner demon comes out to play, Noah and Jackie are arrested by the angelic Serim Council. When Jackie seizes the chance to escape, she falls right into Zane's waiting arms. As she's pulled into a game of cat and mouse between vampires and angels, she finds she must also choose between the two men in her life. Can she decide between Noah and Zane, or will she lose everything she's ever wanted? Because there's more at stake than just her heart. . . .


Once in a Full Moon

Ellen Schreiber

Genre:
Young Adult

Publisher
: Katherine Tegen Books

Release Date:
December 28

Beware of a kiss under the full moon. It will change your life forever.

Celeste Parker is used to hearing scary stories about werewolves—Legend's Run is famous for them. She's used to everything in the small town until Brandon Maddox moves to Legend's Run and Celeste finds herself immediately drawn to the handsome new student. But when, after an unnerving visit with a psychic, she encounters a pack of wolves and gorgeous, enigmatic Brandon, she must discover whether his transformation is more than legend or just a trick of the shadows in the moonlight.

Her best friends may never forgive her if she gives up her perfect boyfriend, Nash, for Brandon, who's from the wrong side of town. But she can't deny her attraction or the strong pull he has on her. Brandon may be Celeste's hero, or he may be the most dangerous creature she could encounter in the woods of Legend's Run.

Psychic predictions, generations-old secrets, a town divided, and the possibility of falling in love with a hot and heroic werewolf are the perfect formula for what happens . . . once in a full moon.


Ruthless Game (GhostWalkers, #9)

Christine Feehan

Genre:
Paranormal Romance

Publisher
: Jove

Release Date
: December 28

GhostWalker Kane Cannon's mission plunges him into a hot zone more personal than he anticipated: the hiding place of Rose Patterson-hunted fugitive, ex-lover, and a fellow GhostWalker desperate to save the life of her unborn child. Kane's Child.



Soul Hunt (Evie Scelan, #3)

Margaret Ronald

Genre
: Urban Fantasy
Publisher: Eos

Release Date:
December 28

The hunter has become the hunted . . .

Without even realizing what she was doing, Genevieve Scelan has made a bad bargain. The Red Sox fanatic and supernatural tracker known as "Hound" for her extraordinary power of scent wishes she could leave magic behind now that she's eradicated the evil cabal that oppressed Boston's undercurrent for centuries. But now her talent's fading, the local adepts' squabbles are turning ugly, and worse, she's just discovered that she owes a very large debt to someone . . . or some thing. And in the undercurrent, debts are taken very seriously.

Evie has until midwinter to pay up . . . or else. So when she gets a job that might save her—even if she's breaking all her own rules to take it—she can't pass it up. Now, with danger at her back and uncertain allies beside her, she'll trace the very bones of Boston itself to protect both the city and the people she loves.



The Lost Saint (Dark Divine, #2)

Bree Despain

Genre:
Young Adult

Publisher:
EgmontUSA

Release Date:
December 28

The non-stop sequel to The Dark Divine delivers an even hotter romance and more thrilling action than Bree Despain's first novel. Grace Divine made the ultimate sacrifice to cure Daniel Kalbi. She gave her soul to the wolf to save him and lost her beloved mother. When Grace receives a haunting phone call from Jude, she knows what she must do. She must become a Hound of Heaven. Desparate to find Jude, Grace befriends Talbot - a newcomer to town who promises her that he can help her be a hero. But as the two grow closer, the wolf grows in Grace, and her relationship with Daniel begins to crumble. Unaware of the dark path she is walking, Grace becomes prideful in her new abilities - not realizing that an old enemy has returned and deadly trap is about to be sprung. Readers, raveous for more Grace and Daniel, will be itching to sink their teeth into The Lost Saint.



Vampire Crush

A.M. Robinson

Genre:
YA Urban Fantasy

Publisher:
HarperTeen

Release Date:
December 28

I swear, my life was always totally normal.

Normal house, normal family, normal school. My looks are average, I don't have any superpowers, no one's showing up to tell me I'm a princess—you get the picture. But when my junior year started, something not normal happened. There were new kids at school . . . new kids with a wardrobe straight out of a 19th-century romance

...more

I swear, my life was always totally normal.

Normal house, normal family, normal school. My looks are average, I don't have any superpowers, no one's showing up to tell me I'm a princess—you get the picture. But when my junior year started, something not normal happened. There were new kids at school . . . new kids with a wardrobe straight out of a 19th-century romance novel, and an inexplicable desire to stay at school until sundown.

And on top of that, James Hallowell showed up. James, who stole my sandwiches in fourth grade and teased me mercilessly through middle school. James, who now seems to have the power to make my heart race any time he comes near.

But something weird is going on. Because James rarely goes out during the day. And he seems stronger than your typical guy. And he knows the new kids, all of whom seem to be harboring some kind of deep secret. . . .



Walking the Tree

Kaaron Warren

Genre:
Publisher:
Angry Robot

Release Date:
December 28

Little knowing how they came to be here, small communities live around the coast line. The Tree provides them shelter, kindling, medicine – and a place of legends, for there are ghosts within the trees who snatch children and the dying.

Lillah has come of age and is now ready to leave her community and walk the tree for five years, learning all Botanica has to teach her. Before setting off, Lillah is asked by the dying mother of a young boy to take him with her. In a country where a plague killed half the population, Morace will otherwise be killed in case he has the same disease. But can Lillah keep the boy's secret, or will she have to resort to breaking the oldest taboo on Botanica?

Another astonishingly imaginative novel from the acclaimed author of Slights.



Zoo City

Lauren Beukes

Genre:
Urban Fantasy

Publisher:
Angry Robot

Release Date:
December 28 (USA)

Zinzi has a Sloth on her back, a dirty online 419 scam habit – and a talent for finding lost things. But when her latest client, a little old lady, turns up dead and the cops confiscate her lastpaycheck, she's forced to take on her least favourite kind of job: missing persons



Tempest's Legacy (Jane True, Bk 3)
Nicole Peeler
Genre: Urban Fantasy
Publisher: Orbit
Release Date: December 29

After a peaceful hiatus at home in Rockabill, Jane True thinks that her worst problem is that she still throws like a girl - at least while throwing fireballs. Her peace of mind ends, however, when Anyan arrives one night with terrible news . . . news that will rock Jane's world to its very core.After demanding to help investigate a series of gruesome attacks on females -- supernatural, halfling, and human -- Jane quickly finds herself forced to confront her darkest nightmares as well as her deepest desires.And she's not sure which she finds more frightening.



Ghost Country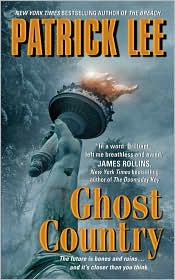 Patrick Lee

Genre:
Science Fiction

Publisher:
Harper

Release Date:
December 28

For decades, inexplicable technology has passed into our world through the top secret anomaly called the Breach.

The latest device can punch a hole into the future . . .

What Paige Campbell saw when she opened a door into seventy years from now scared the hell out of her. She and her Tangent colleagues brought their terrible discovery to the President—and were met with a hail of automatic gunfire after leaving the White House. Only Paige survived.

Fearing a terrifying personal destiny revealed to him from the other side of the Breach, Travis Chase abandoned Tangent . . . and Paige Campbell. Now he must rescue her—because Paige knows tomorrow's world is desolate and dead, a ghost country scattered with the bones of billions. And Doomsday will dawn in just four short months . . . unless they can find the answers buried in the ruins to come.

But once they cross the nightmare border into Ghost Country, they might never find their way back . . .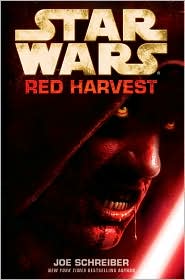 Star Wars: Red Harvest

Joe Schreiber

Genre:
Science Fiction

Publisher
: Random House

Release Date
: December 28

The era of the Old Republic is a dark and dangerous time, as Jedi Knights valiantly battle the Sith Lords and their ruthless armies. But the Sith have disturbing plans—and none more so than the fulfillment of Darth Scabrous's fanatical dream, which is about to become nightmarish reality.

Unlike those other Jedi sidelined to the Agricultural Corps—young Jedi whose abilities have not proved up to snuff—Hestizo Trace possesses one extraordinary Force talent: a gift with plants. Suddenly her quiet existence among greenhouse and garden specimens is violently destroyed by the arrival of an emissary from Darth Scabrous. For the rare black orchid that she has nurtured and bonded with is the final ingredient in an ancient Sith formula that promises to grant Darth Scabrous his greatest desire.

But at the heart of the formula is a never-before-seen virus that's worse than fatal—it doesn't just kill, it transforms. Now the rotting, ravenous dead are rising, driven by a bloodthirsty hunger for all things living—and commanded by a Sith Master with an insatiable lust for power and the ultimate prize: immortality . . . no matter the cost.


Venus Guy Trap


Shannon Mckelden


Genre:

Urban Fantasy


Publisher:

Tor


Release Date:

December 28

Haydee Miller is on the brink of panic. When she was sixteen, she swore that she'd be married by her thirty-third birthday. It's part of Haydee's grand Plan, which saved her sanity when her mother died and her father was too overcome by grief to remember he had a teenage daughter. The Plan has guided Haydee for half her life and never failed her. Until now.
With her birthday looming and no Prince Charming in sight, Haydee is surprised to discover that her bookstore's newest employee is the gorgeous Goddess of Love, Venus herself.
Venus is certain that Haydee's One True Love is the darkly handsome Derek, a world-renowned photographer who has returned to his hometown to settle down. The only problem? Derek and Haydee fell in love ten years ago—before he abandoned her without a word of farewell, leaving her with a broken heart and a secret she has never revealed.
Somehow Venus must heal this damaged woman and reunite her with her True Love. It won't be easy. Every man in town, married or not, is pursuing Venus, even when she makes herself over into the ugliest woman on earth. Are her goddess powers malfunctioning? Can she make a Love Match without them?