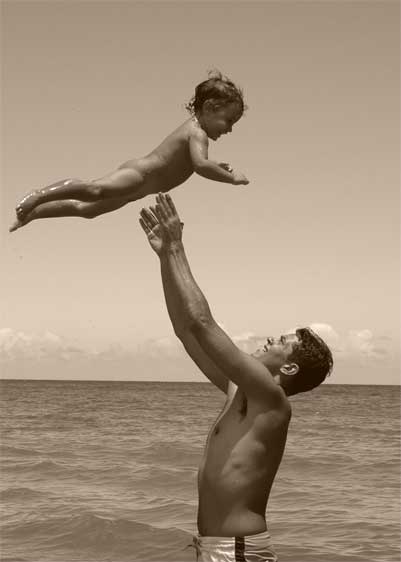 Yesterday, in honor of Father's Day, Geek Dad at Wired.Com posted a list of his top favorite fathers from science fiction and fantasy. I did not actually recognize many of the names on this list, and I think most were from TV shows movies (which I'm not so familiar with) but considering the fact that both Geppetto and Mr.Incredible were included I got the sense that the author of the post was scrambling a bit to come up with some names.
And so I decided to try to come up with my own list of favorite fantasy and scifi fathers, and let me tell you- it was hard! Speculative fiction authors just don't seem to be fond of fathers in their books. In almost every book I can think of the protagonist is either fatherless or has an abusive or negligent father. Rarely have I read a fantasy or scifi book with a strong, positive father figure and I wonder why that is. While orphans do seem to make popular protagonist, if they have one parent it's usually the mother. I can easily come up with some great book mothers, but no fathers.
I'm wondering if this has to do with the fact that in many fantasy books the main character is provided with an older and wiser mentor who helps guide the protagonist as they grow, and this person takes the place of a father. Maybe the father has to be axed to make room for this mentor who so strongly contributes to the development of the main character.But why can't this roll be given to a father as well?
After wracking my brain for a while and going over the books on my shelves I did manage to come up with a few really good fathers. It was tricky though trying to determine what qualifies as a good book father. I thought it should be someone who is actively present throughout the book and doesn't die early or participate occasionally from the distance (à la Garth Nix's Abhorsen or Sarena's father in Elentris), but this also cut my choices down quite a bit. And so here is what I came up with (in no particular order):
1. Colonel Next from Jasper Fforde's Thursday Next series. Even though Thursday's father was eradicated he still manages to frequently visit his daughter, via the time-space continuum, in order to offer fatherly advice and sometime to save her life. One time he even saves the world, making him a totally awesome dad.
2. Duke Leto Atreides from Dune: Although Paul's father doesn't survive for the whole book (or even half of it) I think he lives long enough to make an impact and his strength of character and love for his son does come through clearly.
3. Erny from Peter Brett's The Warded Man: While Leesha's father has difficulty standing up to his shrewish wife, when Leesha needes his support he is there for her, which is definitely the sign of a good father.
4. Motimer from Inkheart by Cornelia Funke: Mo is probably one of the best fantasy fathers I can think of since he is by his daughter's side throughout the book, as Meggie's father, her friend and her protector. I think the close father/daughter relationship portrayed in this book is really pretty unique for the fantasy genre and it was very refreshing and enjoyable.
5. Daniel's father in Zafón's The Shadow of the Wind: Another book that features a strong relationship between a loving father and his son.
6. Ok, I've got nothing...
Can you come up with any other good scifi or fantasy book fathers, or perhaps some ideas as to why good fathers are so hard to find in these genres?