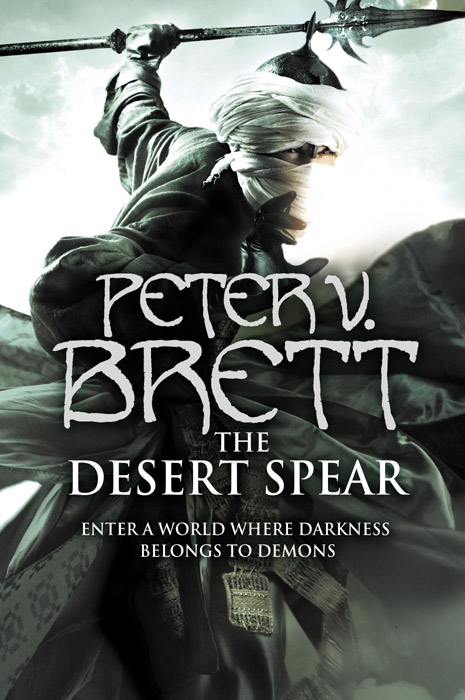 A couple of weeks ago I had posted about Peter Brett's contest for an ARC copy of
The Desert Spear
, his sequel to the
Warded Man
. To enter, you need to send in a picture of yourself, or someone else, holding a copy of the
Warded Man
, with extra points given to pictures with a creative or interesting background.
I mentioned in my post that I would like to enter the contest, and I offered some photo ideas that I had, including getting pictures with some of the nearby Bedouins or even with a camel (which are not uncommon in the area in which I live). Since
the desert is one of the settings in the
Warded Man
, I thought that some desert pictures would be very appropriate for this contest.
But last Friday I suddenly realized that the first deadline for the contest had arrived and I hadn't had any opportunities to take pictures. And so I sent my sister, who was over for the weekend, out of the house with my kids, along with a camera and
The Warded Man,
with instructions to take me some award-winning pictures.
Considering the short-notice, my sister did a pretty good job and brought me back some pictures of my kids posed with the book against the beautiful desert backdrop. Feeling satisfied, I sent off the pictures to Peter Brett as my contest entries.
But apparently Mr. Brett was not satisfied with my entries. 'Where are those Bedouins and camels you promised in your blog?' he asked (OK, he was a lot more polite then that, but that was the general gist of the email). Well... I wasn't expecting anyone to actually hold me to what I write in these posts, but now I felt obligated to deliver. So this past Friday I roped in a couple of friends to go over with me to one of the nearby Bedouin encampments to take some pictures.
Although these encampments are right down the road, I've never actually been over to any of them, though I have always wanted to meet some of the Bedouins living there. But religious and cultural barriers are very thick in Israel and you don't usually cross over them lightly. But this contest seemed like a good excuse for me to take an opportunity to visit my Bedouin neighbors.
After parking along the side of the road, we climbed over the guardrails, at which point the matriarch of the Bedouin family and her son came over to see what was going on. My friend explained to them that we would like to come for a visit, and smiling broadly, the mother and son welcomed us over. But first we had to carefully cross a metal beam precariously laid across a deep ditch, in order to reach the encampment, which added a little element of danger to the adventure (only a little bit, though).
The mother and son welcomed us into their tent where they placed some mattresses on the floor, which they urged us to sit on. After I explained why we were there (I told them it's for a strange American thing, and they nodded knowingly), they cheerfully agreed to pose for some pictures with the Warded Man. As we chatted a bit, their 23 year old daughter, Tzar, joined us and graciously allowed herself to be photographed as well.
And so I finally have the photographs that I had promised to provide and I've gotten to meet some of the Bedouins living nearby, who turned out to be quite delightful. They didn't own any camels that we could photographs ourselves with, though, just chickens, which aren't quite as impressive.
Now you can show your support by going over to
Peter Brett's website
and telling him how wonderful you think these pictures are and how deserving I am of winning one of his ARC
Desert Spears
.