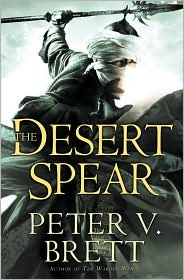 Peter V. Brett has a
fun contest
for three ARC copies of
The Desert Spear
, the sequel to
The Warded Man
. To enter you have to send in a picture of yourself, or someone else, holding a copy of the
Warded Man
, with extra points given to pictures with an interesting background.
While this isn't the first such contest that I've come across, it is the first time that I actually own the book that is needed to participate and so I think I'd like to give it a shot. Plus I live in the desert and I'm sure I could come up with a photo with a great background shot that would be relevant to the book.
Today, on my way to Jerusalem, I saw a Bedouin on a nearby hill leading his flock of goats and I thought 'now that would be a great picture for the contest.' Though I somehow don't think the Bedouin would be too pleased if I intercepted him and his goats to request that he smile for the camera, while holding a book.
I'm also considering approaching the camel owner down the road, who stands around with his camel, waiting for tourists, and asking if I could get a picture of myself on his camel, with the book. Or better yet- a picture of him with the book.
I bet any of these pictures would make me a shoo-in for that contest.
The things I'll do for a book these days....