I know that those of you following my blog might be starting to suspect that this is turning into a Peter Brett fan club, and you might not be too far off to mark. But what can I do? The guy is awesome.


Not only does he write wonderful fantasy novels but he also makes a large effort to connect with his fans, regularly responding to their comments on his blog and Facebook as well as to personal emails. And now Peter is offering to mail out signed bookplates to any of his readers that request one, anywhere in the world, absolutely free of charge (including shipping). This way anyone can have an autographed Peter Brett book without having to travel all the way to Brooklyn.
Come on, is that not awesome, or what? And it's a pretty cool bookplate too.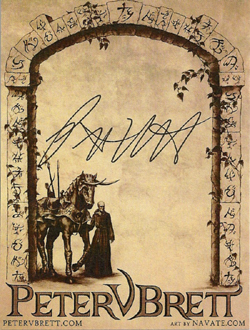 Plus, Peter provides visual instructions on how to correctly place the bookplate within the book, for those who might have trouble with such technicalities.

To find out how to get a free Peter Brett bookplate, visit
his blog.
In about a week or so I will be posting my own interview with the man himself, so stay tuned.