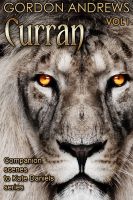 Fans of the Kate Daniels series by
Ilona Andrews
will be delighted to hear that Ilona and Gordon are offering their readers some tasty tidbits to tide them over until the release of the next book in the series.
Now hear Curran's side of the story...
Ebook Description:
This isn't a short story or a novella. This is a collection of scenes written by Gordon Andrews as a companion to our Kate Daniels series of books. These scenes illustrate the point of view of Curran, the Beast Lord of Atlanta and are provided in gratitude to our readers for all of their support. This collection isn't meant to stand on its own as an independent work of fiction.
Just follow this link to read

Curran: Volume I

for free.