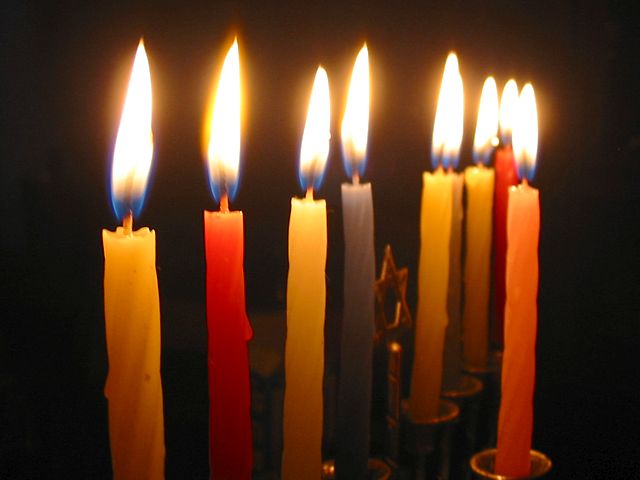 I love the holiday of Chanukah.

I love the cozy atmosphere that pervades that house as we light the menorahs with our children and then watch the flames dance on the colored candles as we sing Ma'Oz Tzo, and enjoy the delicious fried

latkas

* and sweet

sufganiot

*.

Afterwards, my husband and children gather on the living room floor for their annual game of

draidel

* played with the most valued currency of all, chocolate coins. Meanwhile, I collect the presents from their hiding places around the house (some of which weren't hidden well enough and have already been discovered by my two year old) which I hand out to my kids as they squeal in excited glee and then watch as they tear off the wrappings and lose themselves in exploring their new toys.

And now, as my kids all sleep soundly with their new toys firmly tucked into their beds beside them (yes, they insist in sleeping with their presents) I think about my other favorite part of Chanukah, the exciting story behind it all. The tale of the Jewish heroes who stood up against the oppression of the Greek rulers, refusing to allow any more Jews to be massacred for practicing their religion. And the miracles that took place, allowing the small band of Jewish rebels to defeat the Greek army and then the discovery of the small vile of oil, necessary to relight the Temple's Menorah, which was supposed to be lit 24-hours a day, and which somehow lasted for eight full days, just enough time for more oil to be prepared.

I realize that it's no wonder that I'm drawn to reading fantasy when I've grown up on stories such as these. In fact, many of the themes popular in classic fantasy novels can be found within the Torah and Book of Prophets. I've been weaned on stories from our history which are full of miracles, prophecies, romances, betrayals exciting battles and even farm boys that become kings (see the story of King David), and so when I started reading fantasy novels many of those stories were already familiar to me, and didn't really seems that far-fetched.

Following this line-of-thought I thought it would be interesting to invite a few different Jewish science fiction and fantasy authors to see what their take is on the relationship between Judaism and speculative fiction and on how it effects their writing. I received a warm response to this idea from the authors that I approached, and so I'm excited to be able to present you with a week of Jewish SFF authors here at SFF Chat.

Here is some of what you can expect to find here over the next few days (and not necessarily in this order:
An interview with Jane Yolen along with a giveaway of one of her books
A Blog post from Ari Marmell about why he doesn't include Jewish themes in his writing and a giveaway of

The Conqueror's Shadow

and

The Warlord's Legacy
A blog post from Kate Elliott about why she does include Jewish-like characters and themes in her books and a giveaway of

Cold Magic

.
An interview with Ann VenderMeer and a giveaway of

The Kosher Guide to Imaginary Animals.
A blog post from David Brin responding to the claim that Jews don't write fantasy literature and a giveaway of Before They Were Giants.
An original short story from Lavie Tidhar and a giveaway of his newest book,

An Occupation of Angels.
A blog post by Rachel Swirsky about her upcoming anthology of Jewish science fiction and fantasy,

People of the Book

, along with a giveaway of the book.
I have had a wonderful time putting all of this together and getting to interact with some of my favorite authors and I hope you will all enjoy it as much as I did. So be sure to stay tuned every day this week for some Jewish SFF awesomness here at SFF Chat.

Happy Chanukah to all!
*
Sufganiot: Deep-fried doughnuts sprinkled with powdered
sugar and traditionally filled with jelly, though these days caramel and chocolate
have also become
popular fillings for sufganiot. A favorite Chanukah past time of ours, since coming to Israel,
is visiting as many bakeries as possible and comparing each one's sufganiot to see whose is the best.
*Draidel: A dreidel is a four-sided spinning top with a Hebrew letter on each side. It is used during Hanukkah to play a popular children's game that involves spinning the dreidel and betting on which Hebrew letter will be showing when the dreidel stops spinning. Children usually play for a pot of gelt, which are chocolate coins covered in gold colored tin foil, but they can also play for candy, nuts, raisins – anything really! (From About.com)
* Latkas: Fried potato pancakes traditionally eaten on Chanukah and delicious with apple
sauce or sour cream (I go with the apple sauce)